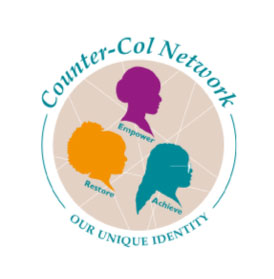 CCN Support
Counter-Col Network
We are Counter-Col, a network dedicated to supporting black women in their working life experiences. Counter-Col Network (CCN) aims to create the space for black women to RESTORE, be EMPOWERED and ACHIEVE.
CCN provides one-to-one support to everyday black women on their journey, to listen and support them in processing their thoughts as they identify the best response for them, in dealing with workplace issues relating to their job, race, equality and diversity. We will offer a space for conversations that move them on from the emotions and facilitate a process of strategic, meaningful and effective next steps to Restore, Empower & Achieve.
We are positioning ourselves firmly between events and the response, a space we refer to as the "Col". We aim to Counter the negative experiences faced by many black women and through the Col, connect you to the side of success, healing and wellbeing.
Research shows that black women suffer from cultural stereotyping in the workplace. When black women attempt to challenge this their reactions are perceived through the lens of racial prejudice, thereby justifying the unfair treatment. The nature and frequency of these events then impact significantly on their sense of self, performance and subsequently their mental health. CCN Support will offer black women a safe space to unpack the experiences that have adversely affected them.
We are here for you. If you would like to contact us for support on an issue you are currently facing, or if you just need some general support, then please submit a Support Request Form (SRF) entry by clicking the 'Get Support' button in this link https://counter-colnetwork.org.uk/ccn-support/ . We will endeavour to make contact with you within two working days. Alternatively you could email us at connect@counter-colnetwork.org.uk
What we are passionate about
Enabling a pathway of success to promote self-improvement, self-fulfilment, and empowerment in people of African and African-Caribbean origin including other minority ethnic groups.
Contact Us Now