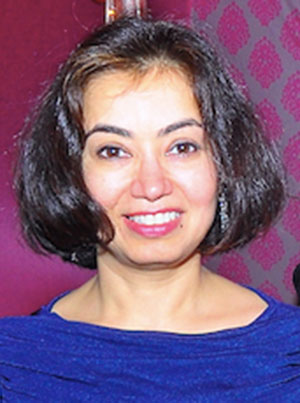 Dr Nivedita Bajaj
MBBS, MD (Paediatrics), MRCPCH (London), PGDip Paediatric Neurodisabilty (Sheffield Hallam University), FRCPCH
Lead link (Associate Member Pathway, Child Development courses- One2One Mentoring Network)
I arrived in the UK about 18 years ago after completing my medical degree and Masters in Paediatrics from India. Prior to moving to the UK, I had a remarkable job experience working in the Middle East, which also gave me an opportunity to work with people from different countries around in the world. Moving from one country to another was admittedly a struggle, especially since I had to find my feet not only once but twice – because of this I appreciate the value of mentoring and supporting the others in need.
I am a Consultant Neurodevelopmental Paediatrician with special interest in complex neurodisability an neurodevelopmental disorder and I work within a multidisciplinary team at the Child Development Centre, East and North Herts NHS Trust. Also, I am the Designated doctor for the Looked after Children and the Care Leavers in the Hertfordshire and am the BACCH regional coordinator for East of England and more recently, I have established my own private practice where I have the liberty to help more children in need of assessments.
Since I am also an Educational Supervisor, I have been mentoring the trainees within that role.
I have delivered a number of talks and papers at different forums on related topics nationally and internationally.
I am a co-founder of School Doctor, an innovative Social Enterprise, aiming for early identification of children and young people with neurodevelopmental disorders and training the professionals working with them.
Whilst I am often busy with my work, I always try to spend time with my family; I am married and have 2 lovely daughters. Albeit working full time and supporting my children through their adolescent years is not easy, I try my best to spend quality time with my family and stay healthy and happy.
Our vision
Utilising mentoring and coaching methods to enable a pathway of success to promote self-improvement, self-fulfilment, and empowerment in women and men from Black and minority Ethnic communities.
Contact Us Now