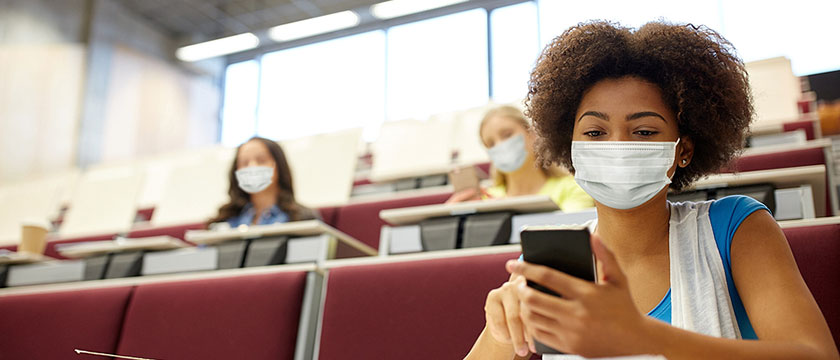 Being a 2nd Year Medical Student during Covid-19
The walk to the lecture theatre was less than 3 minutes, less than 2 if I was running (literally) late. I could actually see my lecture theatre from the kitchen – that's how much uni work was on my neck. We started off meeting outside the accommodation, a few friends and I, so we could walk the 18 steps to the entrance of the lecture theatre together. Over time we would meet inside the lecture theatre, most people having carved an imaginary name on their favourite seat by this point. We would file into our row and grin at each other, catching up on the events from the previous evening and complaining about the rain.
It was 365 days ago, just about, when as first year students, we were exploring a new city, making new friends and settling in. It's hard to believe that an entire year has passed since we would sit side by side in massive lecture theatres. The students who had sniffles and colds came in (mask-less, might I add) and sent those sniffles right around the room. Can you even imagine? The days came and went, and with each one, we learned to adapt and even started to call our term time address 'home'.
Things look really different now, of course not just for us. Almost everybody alive right now has had plans cancelled, potentially fewer hugs than they'd have liked and hears the word 'coronavirus' more times in one week than most scientists had previously heard over their lifetime.
At first the chance to study at home seemed to appeal to the masses. There were buzzes of, 'Oh, now we don't have to wake up for those early 9ams' and, 'We'll be able to do our work from the cosy comfort of our duvets'. Let me tell you, the novelty promptly wore off when we realised we'd have to return home, our real home, and would miss the rest of the first academic year of our medical school journeys.
Online classes have not been easy for most students. This is the general consensus especially for a course as practical as Medicine. The already long hours of studying have become considerably longer, with screen time at an all-time high. That tap, tap, tap we heard in group study rooms and library cubicles, as fellow students banged out assignments on the computer is no longer a background noise to encourage us to power through and peel our eyes from any one of a plethora of distractions.
We've been innovative. I can't tell you how many Zoom study sessions I've attended or the number of study dates I've had with friends over FaceTime. I've appreciated the importance of studying and doing life alongside others. It can get really lonely when you feel as though you're the only one shuffling through a mountain of work. So, when I look over at my screen and see a friend scribbling notes, her face just as puzzled as mine, I remember that we really are all in this together. And although we might be miles apart, we do need each other and can support one another. Whether that's a silent study with each person ploughing through his or her timetable for the day or an hour of mics-on, mnemonic-sharing fun, these are the moments which have helped me get through this past year.
Things have not necessarily become easier but we have adapted. We've learned how to cope and have found new things which help us to destress. For me, that's walking. Each day, as much as possible, I love to pull on my trainers and step outside, even if it's for a mere fifteen minutes. It really helps me to breathe, pray and declutter my mind. I have friends who have taken up learning new languages, reconnected with long-lost hobbies or simply just taken the time to rest. Not to mention the tips and tricks we have picked up from each other. That one button on Panopto which increases the playback speed has honestly become a good friend. It's a wonder how we managed to sit through an entire 50 minutes of speech on 1x speed! Well, these pre-recorded, online lectures have fixed that; we've seen the light.
Being a student during this pandemic isn't easy – but whose life is right now? We've learned resilience, dedication and self-discipline. Am I happy I completed a degree before starting my medical study? You bet. I would have struggled even more otherwise; I really think so. When I think about the first-year students at my university, I have to smile sympathetically. They started uni at a time when there was so much uncertainty. They've pushed through and graciously demonstrated that with the right attitude and support, one can thrive in any environment. I've had the privilege of mentoring some 1st year students through a buddy scheme that was set up by my medical school to ensure that the freshers had someone to ask for advice, go to for a chat and be a source of encouragement.
It's amazing how we've been able to form friendships through the buddy system and look out for the new students. It's really highlighted to me the value that can be found in these kinds of mentoring relationships.
And in a similar manner, I've been guided and shown the ropes by students in the years above mine. Having support and encouragement from students who are further along in their medical education is more beneficial than I can articulate. When I feel overwhelmed, or unsure of something, it is so reassuring to receive helpful pointers, useful YouTube links and website recommendations. I have learnt that this journey is not one you can do alone (not easily anyhow). Why would you want to do it alone anyway? We're all in this together. I'm not a big High School Musical fan; however, in the past year I have quoted the song title, and at times even a few lines of the lyrics, either to myself or to friends and mentees. It's all well and good hearing someone say, 'We're all in this together', but is it something you believe and can actualise? It's so important to lend a helping hand to someone when they need it and raising a hand when you need help. More than ever, this year I have practiced this: in my academic circles, within my friendship groups and with my family. We all need each other.
It doesn't stop here. We are all of course praying and hoping that the pandemic will be over soon. Each person wants to return to a form of normality – a world that makes sense to who they were before. I think that world might be gone for good. We've become more creative, we've laughed more, and we've loved more. A deeper understanding of the things which are important, and which should be valued has been birthed within many of us and I really pray that it continues to take root and grow. I hope we don't forget how to ask for help when we need it, and even more so, I hope we remember to walk alongside other people and give a helping hand.